How to create an invoice in Algeria?
In this article, we approach a simple and concise explanation of what is an invoice, the different types of invoices, how do they look and what is mandatory on an invoice in Algeria?
Contents
☑ What is an invoice?
☑ The different types of invoices
☑ What should an invoice include?
☑ WYSII, your invoicing software in Algeria
Let's go 😎
What is an invoice?
An invoice is a commercial, accounting and legal document that proves a purchase or sale made in the course of a professional activity.
An invoice attests the debt of a customer towards his supplier. It is obligatorily established by any legal structure (company, association, micro-enterprise, etc.).
The invoice details the nature, quantity and conditions of purchases and sales as well as the mandatory legal mentions.
In other words, it is a descriptive document that details a transaction between a seller / service provider and its customer.
This document can be established on paper or electronically while waiting for its deposit with a wet stamp according to Algerian regulations.
For a professional customer, it must be established and delivered.
If the invoice is not provided upon completion of the sale, the buyer may request one from the seller.
Within the framework of services or physical products, the invoice is accompanied by a service done when it is a service and a delivery order when it is a sale of physical product.
These two pieces prove the delivery of the product / service and oblige the beneficiary customer to pay in the eyes of the regulations.
The different types of invoices
There are several types of invoices and related documents. Each invoice is used in very specific circumstances and involves the monitoring of a protocol during their establishment and issuance.
Sounds complicated? Don't worry, we will give you the answers you need so that you can find your way around easily and quickly by presenting the different types of invoices you are likely to produce in your professional career.
PRO FORMA INVOICE
The pro forma invoice, is a kind of provisional estimate, it is a purely informative commercial document, which however, has no legal or accounting value.
This invoice is, only, issued at the request of the customer to help him estimate the cost of his potential / future purchase.
It is required for certain customs formalities, such as temporary import or export of goods and non-commercial shipments.
Deposit invoice
A deposit is a cash advance, it is a sum of money paid in advance of the transaction (at the request of the provider).
The deposit invoice is a document that must be drawn up (obligatorily) when a down payment is received from the customer.
CREDIT INVOICE
Error is human, even if you're a pro at invoicing, you sometimes make mistakes when issuing invoices.
A credit invoice is then issued in order to rectify an invoice following an error. For more details on the subject, read our detailed article on the credit invoice.
(You can always use an invoicing software to avoid errors)
What should an invoice include?
In order to be valid, an invoice must include the mentions relating to the economic agent and the purchaser according to the provisions enacted by the executive decree n°05-468 of 10/12/2005.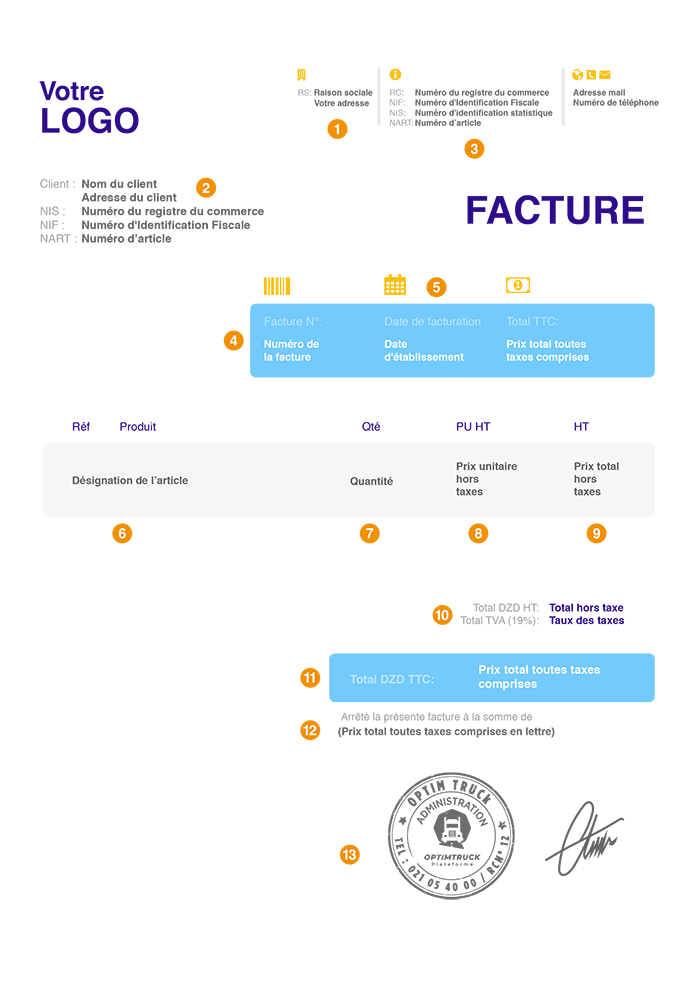 WYSII, the Algerian billing software
For a professional, preparing an invoice is a repetitive, delicate and time-consuming task.
Using the online invoicing software will save you time and protect you from typing and calculation errors!
Here is how you will be able to make an invoice for your customers thanks to WYSII.